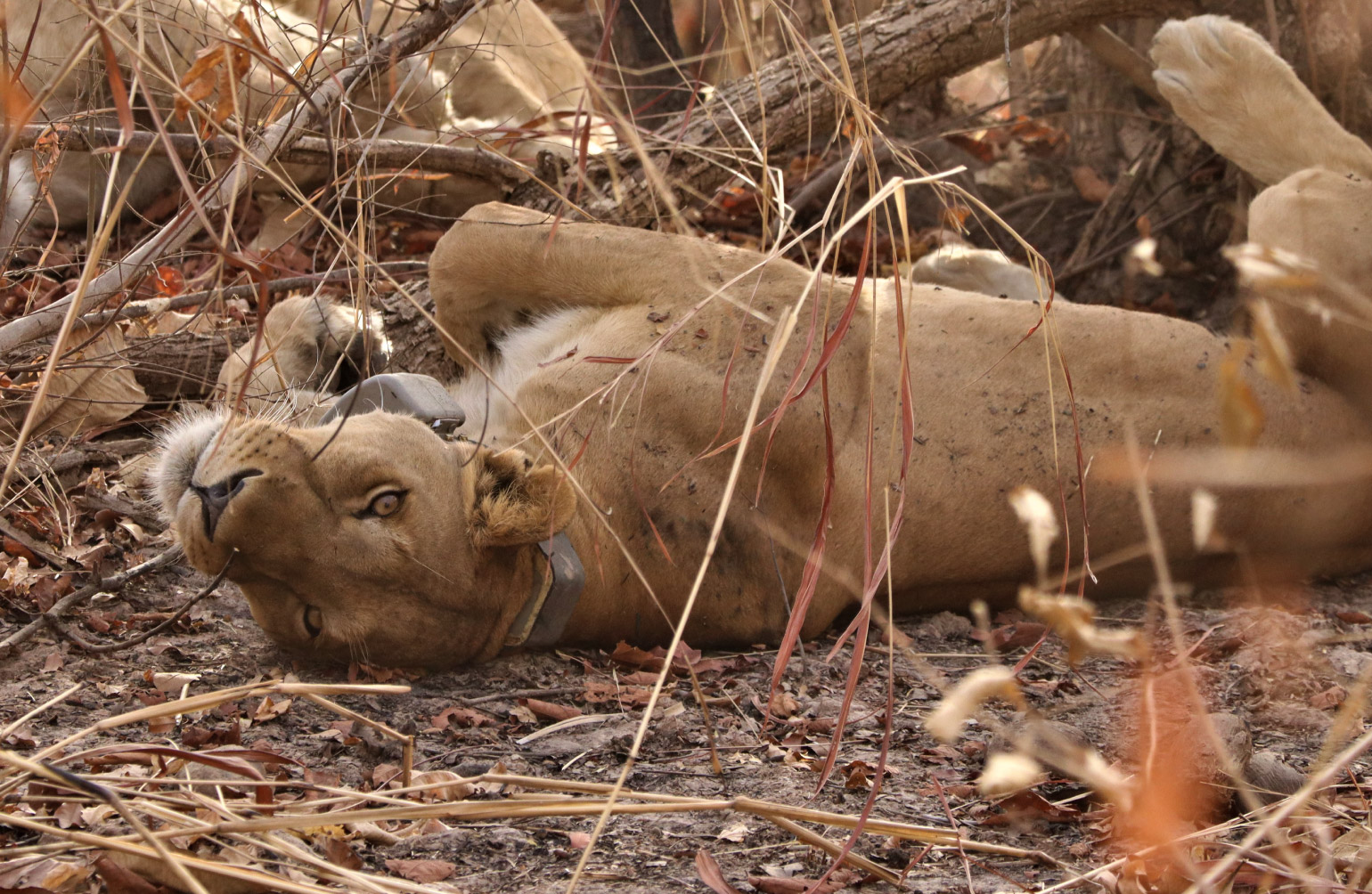 Six collared lions will unveil critical ecological information shaping conservation of the 250 West African lions left in the wild
Senegal's Niokolo Koba lion population has more than doubled in a decade due to persistent anti-poaching and scientific monitoring 
May 18, 2022
Media Contact: Susie Weller Sheppard, sweller@panthera.org, 347-446-9904
New York, NY - In a first for the nation, Senegal's Department of National Parks (DPN) and Panthera, the global wild cat conservation organization, have successfully GPS-collared six Critically Endangered West African lions in Niokolo Koba National Park (NKNP). Furthermore, in a previously incomprehensible level of growth, the NKNP lion population has increased by over two times in just a decade due to determined anti-poaching and biological monitoring efforts.  
Utilized as part of a DPN-Panthera lion conservation initiative to safeguard some of the last 250 West African lions in the wild, the GPS collars will provide critical data on the ecology of the region's lion population, allowing better protection and ultimately, recovery, of the species and its prey. Importantly, the GPS data will guide conservationists to devote adequate antipoaching resources to protect the park's most utilized habitats and track recolonization of regions of the park where lions were eliminated due to inadequate protection in the past. 
Equipped with night vision scopes, the Panthera and Senegal DPN team worked nightly over three months in 2021 and 2022 to track, lure and successfully collar the six lions in the 9,000 km2 space, including several resident pride males, members of what may be the first reported coalition of three males in West Africa and a healthy lioness in her prime reproductive years. The existence of a coalition of three males, in particular, is an encouraging sign of lion recovery, as such units are formed only when numbers are high enough to warrant competition between male lions. 
Providing a lone female lion with a second chance at life, a seventh individual too young to collar was additionally captured to remove thick porcupine quills from her face that had prevented feeding for likely a month and would have resulted in her imminent death.  
Already, GPS tracking has demonstrated the lions show strong fidelity to one region of the park, data which can now inform the focus of wildlife protection efforts. Investigating the lions' kills has revealed a selection of larger ungulates as prey, indicating the need for increased protection of these species. Despite the discovery of a male coalition, GPS data has also revealed a low dispersal drive, indicating that competition among male lions is stunted and suggesting that lion densities in the park are still far below their potential.
Panthera West and Central Africa Regional Director, Dr. Philipp Henschel, stated, "Collaring the first-ever lions in Senegal is a historic achievement and a critical first step to gather information on the population's movement, behavior, diet, social system and threats that will significantly help scientists sketch a conservation roadmap to save the West African lion in country and further afield." 
Henschel continued, "Armored with adequate wildlife protection and development of Senegal's ecotourism sector, Niokolo Koba has tremendous potential to harbor hundreds of lions and to be nourished into the 'Serengeti of West Africa,' benefitting both people and wildlife."
Tapping into NKNP's vast potential requires infrastructure, telecommunications and ecotourism development allowing wildlife rangers to patrol and protect wildlife, and tourists and tourism operators to move freely and easily. 
Niokolo Koba is classified as a UNESCO World Heritage Site providing refuge for one of the largest and most protected West African lion populations. Characterized by a thin mane and lanky body, the West African lion is genetically distinct and part of the Northern lion subspecies, which also includes Asiatic lions, and is genetically distant from the Southern lion subspecies inhabiting eastern and southern Africa. A state icon, the lion serves as the official symbol of Senegal and the national football team mascot, along with being highlighted in the country's anthem. 
Despite their regional reverence, however, West African lions have suffered particularly dramatic population declines due to illegal hunting of the species' prey, poaching for the illegal wildlife trade, direct killing over livestock depredation and loss of habitat. Lions now inhabit just one percent of their historic range in West Africa. 
Panthera has partnered with Senegal's DPN since 2017 to develop NKNP's infrastructure through road and ranger base construction for wildlife protection; hiring, training, equipping and deploying antipoaching rangers; and monitoring of wildlife populations utilizing camera traps, scat collection and more. Such stringent protection efforts have helped herbivore populations rebound, including Roan antelope and African buffalo, which serves as a hopeful sign for the region's lions.
Along with the resident lion population, a Panthera-led survey revealed that NKNP maintains West Africa's largest remaining leopard population and regionally is the most important site for leopards. In the last two years, Panthera camera traps have additionally captured photos of African wild dogs, which are believed to be members of the last surviving population in West Africa, and images of an elephant bull, serving as the first direct sighting of the species in the park in many years. Additional wild cats in the region include the serval, caracal and African wild cat.  
DPN and Panthera scientists intend to fit GPS collars on an additional six lions in the current dry season.
About Panthera
Panthera, founded in 2006, is devoted exclusively to preserving wild cats and their critical role in the world's ecosystems. Panthera's team of leading biologists, law enforcement experts and wild cat advocates develop innovative strategies based on the best available science to protect cheetahs, jaguars, leopards, lions, pumas, snow leopards, tigers and the 33 small cat species and their vast landscapes. In 39 countries around the world, Panthera works with a wide variety of stakeholders to reduce or eliminate the most pressing threats to wild cats—securing their future, and ours. Visit panthera.org
This press release has been produced with the financial assistance of the European Union and the Organisation of African, Caribbean and Pacific States through the BIOPAMA Programme. The contents of this document are the sole responsibility of Panthera and can under no circumstances be regarded as reflecting the position of the European Union nor of the Organisation of African, Caribbean and Pacific States.