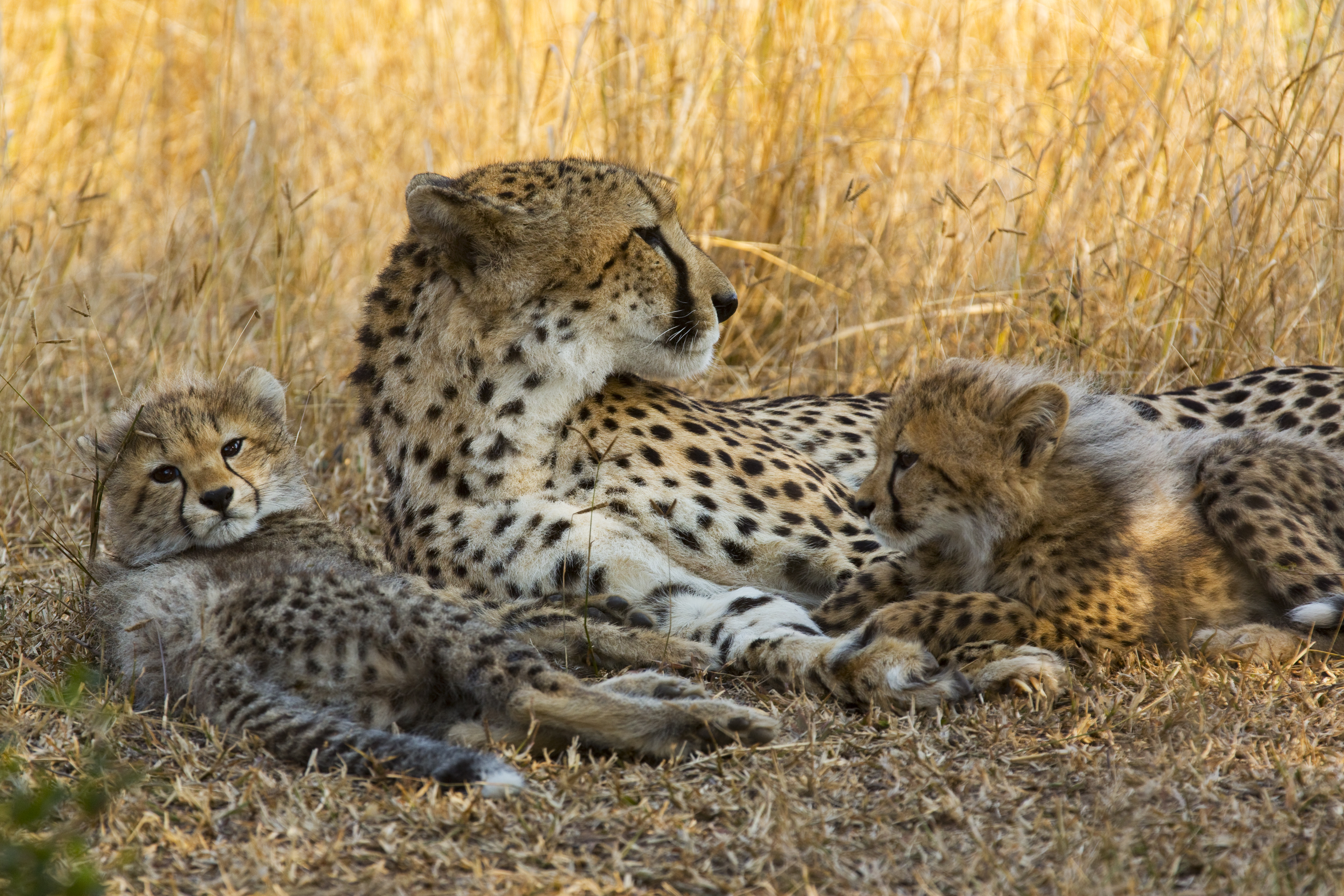 The Conservation Council is a global advisory board that convenes more than 60 of the most-respected figures from across business, law enforcement, government, fashion, media, entertainment, tourism, the military and the arts. Council members provide Panthera with actionable advice on a wide variety of topics fundamental to our growth and development. The council exemplifies service unprecedented in the conservation community for its diverse scope and potential impact on the preservation of the world's wild cats and their critical ecosystems.
Council Members
Abeer Al-Otaiba
Businessperson and Philanthropist
Founder and Creative Director of SemSem
H.E. Yousef Al-Otaiba
Ambassador of the United Arab Emirates to the U.S.
Tom Anderson
Producer, formerly of CBS's 60 Minutes
Ruth Brenner
Philanthropist and Conservationist
Ambassador Antonin Baudry
Author and Entrepreneur
Former Ambassador for Culture and President of the Institut Français
Jean-François Camilleri
President, Echo Studio
Celina Chien
Photojournalist and Conservationist
Ally Coulter
Designer, Ally Coulter Design
Ian Craig
Wildlife Conservationist
Co-founder Lewa Wildlife Conservancy and the Northern Rangelands Trust
Frédéric Dallet
Collector
Custodian of the Estate of Robert Dallet

Itzhak Dar
Security Analysis and Intelligence
Shafran Consulting and Management
Ambassador Francois Delattre
Secretary General of France's Ministry of European and Foreign Affairs
Former Ambassador of France to the U.S. and the U.N.
Jean Doumanian
Stage, Film, and Television Producer
Jean Doumanian Productions
Pierre-Alexis Dumas
Artistic Director, Hermès
Susan Engel
Director and Executive Producer, 92Y Talks
Ali Erfan
Businessman and Philanthropist
Founder and Chair, Cogito Scholarship Foundation

Yvan-Lledo Ferrer
Intelligence College in Europe
Sally Fischer
Branding Strategist and Cause Activist, Sally Fischer Public Relations
Jane Fraser
Philanthropist
President of the Stuttering Foundation of America
Yanina Fuertes
Entrepreneur and Conservationist
CEO, Corso Como, Inc.
Rick Gerson
Hedge Fund Manager
Chair, Falcon Edge Capital
Loïc Gouzer
Conservation Activist
Former Deputy Chair, Post-War and Contemporary Art, Christie's
Ben Hall
Chair, Americas at Christie's
Jennifer Hall
Vice-President of Client Development, Christie's
Charles Hansard
Investor
Board Member, Moore Global Investments Ltd.
Stan Herman
Fashion Designer
Former President of the Council of Fashion Designers of America
Co-creator of New York Fashion Week
Richard Hurowitz
Publisher, The Octavian Report
Sharon Hurowitz
Curator and Art Advisor
Coplan Hurowitz Art Advisory
Jeremy Irons
Award-Winning Actor of Screen and Stage
Geoffrey Kent
Travel Entrepreneur
Chair and CEO, Abercrombie and Kent
Mohamed Khashoggi
Writer, Conservationist
Chair, M K Associates
Dr. Paul Klotman
President and CEO, Baylor College of Medicine
Stephen S. Lash
Chair Emeritus, Christie's Americas
Chair Emeritus, Institute of Fine Arts, New York University
H.E. Aurélien Lechevallier
Ambassador of France to the Republic of South Africa
H.E. Ambassador Jean-David Levitte
Former Ambassador of France to the U.S and the U.N. Former Head of the National Security Council
Michael Levy
Founder and CEO, The Levy Production Group
James Lieber
Strategic Consulting
Founder, Lieber Strategies
Maya Lin
Artist, Designer and Conservationist
Maya Lin Studio
Fern Mallis
Creator of New York Fashion Week and the Fashion Icon series
President of Fern Mallis LLC
Dr. Bassem Masri
Director of Preventive Cardiology, Weill Cornell Medical Center
Edith McBean
Dedicated Conservationist
Dr. John Mitchell
Chair of the Board of Trustees for Bat Conservation International and World Land Trust-USA
Former Executive Secretary and Chair of the Beneficia Foundation
Katherine Mitchell
Artist, Nature Enthusiast
Wendi Deng Murdoch
Businessperson, Investor and Film Producer
Otto Naumann
Art Historian
Senior Vice President and Client Development Director, Sotheby's
H. E. Lana Nusseibeh
Ambassador of the United Arab Emirates to the United Nations
H. Merritt Paulson, III
CEO, Portland Timbers
General David Petraeus
Chair of the KKR Global Institute, Four Star General (Ret.), Commander and Strategist, U.S. Army
Jonathan Powell
Diplomat and Author
CEO, Inter Mediate
Former Chief of Staff to the Prime Minister Tony Blair
Arnaud de Puyfontaine
CEO, Vivendi
Andrew Revkin
Strategic Advisor for Environmental and Science Journalism, National Geographic Society
Former Reporter for the New York Times and Senior Fellow for Environmental Understanding,
Pace University
Alex Rosenberg
Founder and CEO, Originals
Former Business Executive, Kanye West and Yeezy
Sir Norman Rosenthal
Curator and Art Historian
Former Exhibitions Secretary, The Royal Academy
Andy Sabin
Entrepreneur and Conservationist
Chair, Sabin Metal Corporation, and Founder, Andrew Sabin Family Foundation
Jaqui Safra
Investor, Collector, Entrepreneur and Philanthropist
Luana Saghieh
Cat Conservationist
Foreign Affairs and Policy Professional, U.S. Government
Aamer Sarfraz
CEO, Draper Oakwood
HRH Princess Reema Bandar Al Saud
Ambassador to the U.S. for the Kingdom of Saudi Arabia
Dr. Claudio Segré
Economist and Banker
Founder, Fondation Segré
Vance Serchuk
Executive Director of the KKR Global Institute
Former Senior Foreign Policy Adviser to Senator Joseph Lieberman (I-CT)
Officer in the U.S. Navy Reserve
Dov Siedman
Author & Founder and Executive Chairman of The HOW Institute for Society and LRN
Nina Siemiatkowski
Wildlife Photographer and Marketing Advisor to Conservation Organizations
Kate Silverton
Journalist
Anchor for BBC News
Wilbur Smith
Author and Philanthropist
Founder, Wilbur Smith Foundation
Daisy Soros
Philanthropist
Chair of the Paul and Daisy Soros Fellowships for New Americans
Lieutenant-Colonel Timothy Spicer, OBE
Strategist
Founder of Aegis Defense Services
Michael Steinhardt
Philanthropist and Financier
Chair, The Wisdom Tree
Steven Stone
Attorney and Conservationist Activist
Partner, Rubin, Winston, Diercks, Harris & Cooke, LLP
Amanda Tapiero
Art Educator and Collector
Frédéric Thiébaud
Business Executive
CEO, The Shania Kids Can Foundation
Baron Lorne Thyssen-Bornemisza
Collector, Investor and Entrepreneur
Founder, Kallos Gallery
Henry Timms
CEO and President, Lincoln Center for the Performing Arts
Founder of #GivingTuesday
Kris Tompkins
Philanthropist and Entrepreneur
Founder and President, Conservación Patagónica
Former CEO of Patagonia, Inc.
Rhett Turner
Filmmaker and Conservationist
Shania Twain
Award-Winning Singer and Songwriter
Philanthropist and Advocate for Children's Education and Empowerment
Johnny Van Haeften
Fine Art Dealer
Johnny Van Haeften Ltd.
Eric Vincent
President, Sarissa Capital Management
Nicolle Wallace
Political Analyst and Television News Anchor, MSNBC
Ambassador Mark Wallace
Former U.S. Ambassador to the U.N., Representative for U.N. Management and Reform
Diana Walters
Strategic Advisor in the Natural Resources Industry
Thom Wayne
Founder, Sigma Capital Partners
Chief of Strategy Chabad on Campus
Alexander Werz
CEO / Partner
Karla Otto International
David Wickham
CEO, Kooyong Advisors Limited