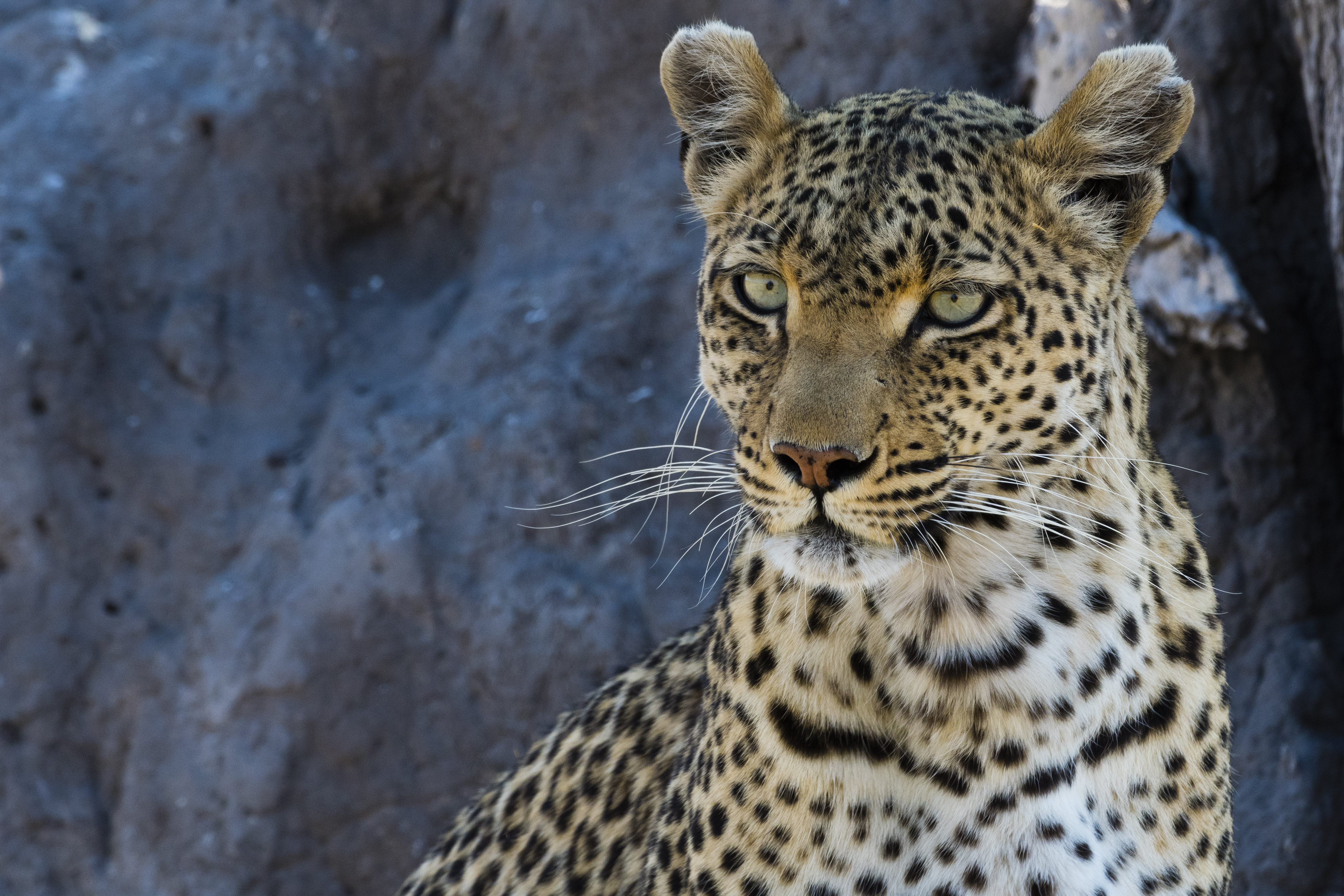 Panthera believes corporations have a vital role to play in wildlife conservation. They fund conservation programming and implement business practices that can benefit wild cats, their habitats and travelling corridors and the people who live among them. Panthera's corporate partners support our work through annual donations and gifts as well as royalty programs. In addition Panthera may also advise corporations on wildlife-friendly business and development best practices.
Corporate Partners
Corporate philanthropy is everyone's responsibility. Interested in becoming a philanthropic giving partner? Email us at info@panthera.org.
Cartier
In 2015, Cartier, the world-renowned luxury maison, and Peace Parks Foundation joined forces with Panthera's Furs for Life program to conserve the world's most persecuted big cat: the leopard. In southern Africa, local communities covet leopard skins and wear them during community celebrations. To reduce the hunting of leopards and other wild cats for their pelts, Panthera created a high-quality replica leopard fur to be worn in place of real fur at community gatherings. Since 2016, Furs for Life donated more than 18,500 synthetic leopard fur capes to the Shembe community in South Africa, decreasing the use of real leopard furs at religious gatherings by half and preventing hundreds of leopard deaths annually.
In partnership with the Lozi people of Zambia, Furs for Life initiated the Saving Spots project in August 2019. This project involved the creation of synthetic fur garments known as Heritage Furs to replace real leopard, serval and lion furs used during Lozi festivals. Panthera expects that Heritage Furs will help to reduce the hunting of wild cats across southern Africa where species are severely threatened.
Gifts for Change
Gifts for Change offers companies an innovative solution to get involved in good social and environmental causes through eco-friendly and customizable objects which give back to charities. Used as corporate gifts, promotional objects or even accessories which can be distributed to your customers, "gifts for change" promote CSR (Corporate Social Responsibility) policy and commit to bringing change together with clients, employees and other stakeholders. Gifts for Change is supporting Panthera's Lion and other key wildlife protection programs in Niokolo Koba, Senegal. 
Hermès
Hermès was founded in 1837 as a maker of harnesses and saddles. Six generations of enterprising artisans have opened up new domains and conquered new markets imbued with respect for the past and enthusiasm for the future.
Hermès and Panthera have joined forces to create a living legacy to Robert Dallet, the late French artist and naturalist whose lifelike paintings of wild cats for the Parisian maker of quality goods have captivated a generation of Hermès clientele. In honor of Panthera's tenth anniversary, the Robert Dallet Initiative for Wild Cat Conservation will help to fund Panthera's leading research and on-the-ground efforts to protect wild cats and their landscapes around the world.
Molo
Scandinavian Molo is an innovative and colorful kidswear brand that creates clothes in responsible materials for ages 16 and under. Understanding the challenges that the apparel industry faces, as well as its responsibility for future generations, Molo has embarked on a journey towards sustainable production and materials. In 2021, Molo joined forces with Panthera on a March 2022 capsule collection to increase awareness of how a healthy environment for wild cats affects our planet and our lives.
RØAR by Froneri
ROAR is the most wildly delicious plant-based ice cream that helps to save wild cats in conjunction with Panthera. Learn more about ROAR by visiting roaricecream.com or following @roar_icecream on Instagram. 
Sakroots
Sakroots is a free-spirited American lifestyle brand that delivers fresh and exciting products through unique artist-driven patterns, each tied to a nature-related charity that shares our mission to make the world better. Sakroots supports Panthera through its Art for a Cause program where it matches all consumer donations, dollar for dollar. 
Philanthropic Partners
Panthera's business members help to advance critical research, implement scientifically measured conservation programs and build on-the-ground and international partnerships that work to ensure a long-term future for the world's wild cats.
Neoxia
Neoxia is based in Paris, Grenoble, Bordeaux and Casablanca and is made up of more than 180 technology-passionate people with a wide range of profiles. 
Neoxia helps organizations to imagine, develop and operate the digital platforms and services of tomorrow. With more than 600 achievements to its credit since 2000, the people of Neoxia are recognized for their high technical requirements, quality deliverables, commitment and good humor.
Neoxia meets the needs of start-ups looking for a partner with the necessary technical expertise to take charge of the development and industrialization of their IT infrastructures, as well as those of large groups inclined to boost their innovation capacities or transform their research ideas into technological projects.
so.fa.dog
so.fa.dog is a Passion Economy startup that helps creators to live off their passion. Our creators can do what they love while also earning considerable income. We support creators with a variety of backgrounds but are united by good visuals and video content.
Within the so.fa.dog platform, our original micro-documentaries channel features stories that expand our audience's minds about the trends and challenges that are shaping our world. We are passionate and make the '1,000 True Fans' concept a reality!
Collaborators