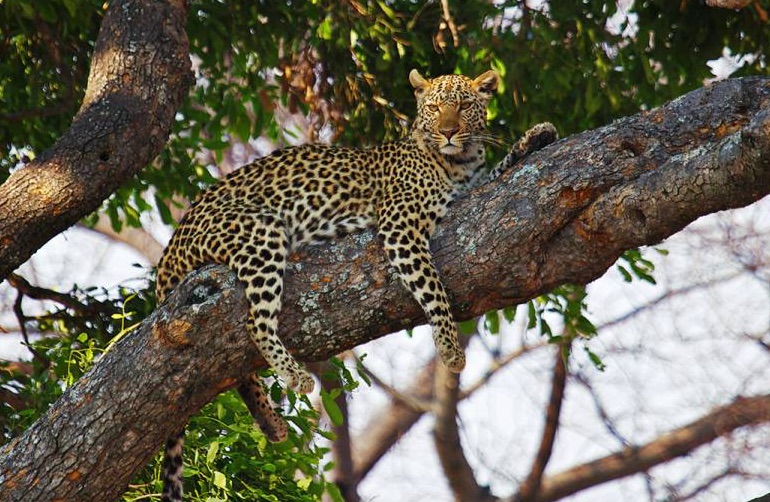 A short history was written in the sand. Specifically, on a winding road that snaked through the wilderness of Djuma Private Game Reserve in the iconic Sabi Sand Wildtuin in South Africa. The chilly morning breeze colored our cheeks as we leaned eagerly over the side of the game viewer to peak at the signs of the night-time denizens; here, a nightjar had projected itself skywards in a flurry of dust to catch its insect prey. There, the tracks of passing antelope, some alone, some in groups and some with more heart-shaped hoof prints than others. The deliberate, giant ovals that stamped one section of road could only be from easy-going elephants. And – oh wait! Could it be? But so fresh…?
We set off at pace, following the trail of the animal that made all our hearts leap… 
Because each and every one of us on the vehicle dedicate our working days to studying, understanding and conserving leopards. In fact, over the next three days in this invigorating workshop in the Sabi Sands, we would learn exactly what it takes for some of the Panthera staff to accomplish the enormous contributions they make towards conserving this species. We would re-assess our conservation strategies and plans, regroup and re-energize our team. And —
There she was! 
Spotted, graceful, unbelievably at ease.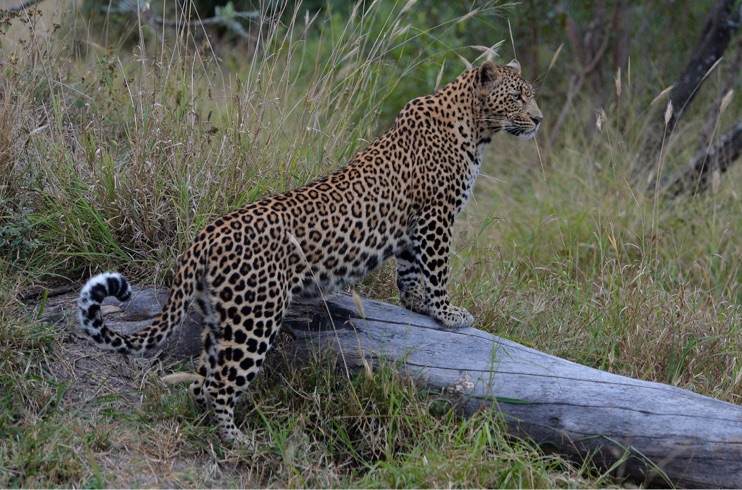 She acknowledged us briefly with a casual glance over her shoulder (can anything be as piercingly beautiful as those earthen eyes?) before continuing to saunter coolly down the road. We followed her closely and basked in the glory of her simple morning rituals. Sniffing leaves next to the road, rolling in the warm sand, scent-marking against her favorite bushes with her tail curling lazily behind her…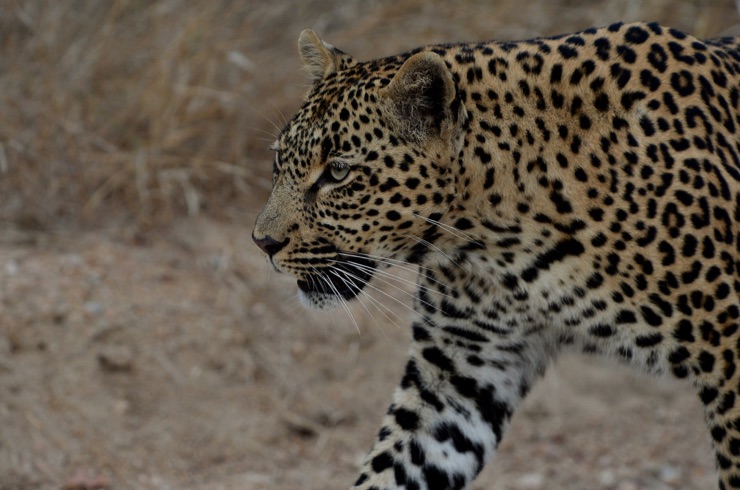 As a team dedicated to the conservation of leopards across their range, few of us ever get to glimpse this elusive species. The Sabi Sands Game Reserve provides an incredibly unique opportunity to view and study leopards. Leopards here are extremely habituated to the presence of vehicles, and guides can identify the resident individuals on sight. Because of the relaxed nature of these cats, leopard sightings are frequent, and behaviors are observed that are seldom seen anywhere else. But unfortunately this is not the situation elsewhere. Leopards are the most persecuted of the wild cat species and there is a general decline in leopard populations across their range. As threats like habitat loss, illegal killing and conflict with humans increase, the opportunities to observe, study, and appreciate these magnificent predators in their natural habitat become increasingly scarce. 
After a year of mandated isolation and work challenges caused by the global COVID-19 pandemic, it was time for the members of the Panthera Leopard Program to unite once more. And we could ask for no better inspiration for our Strategy Workshop than to see a female leopard exhibiting her natural behaviors in full view without any fear.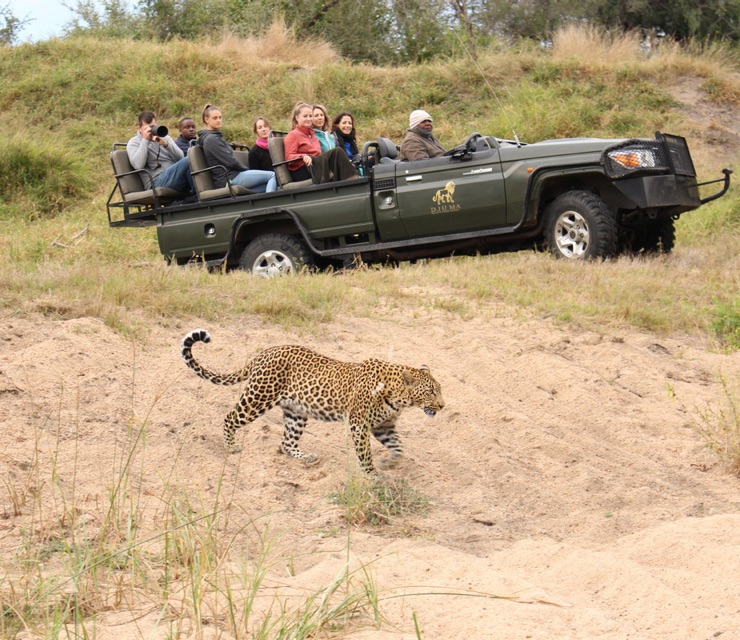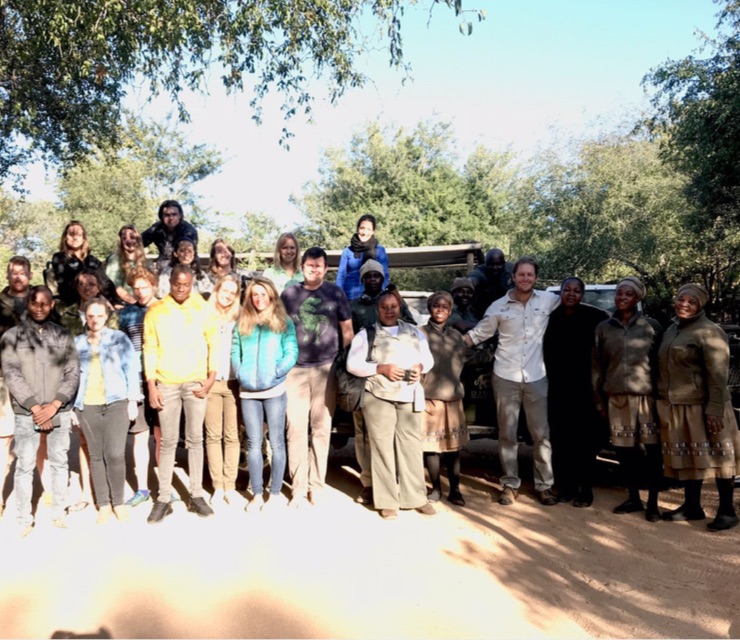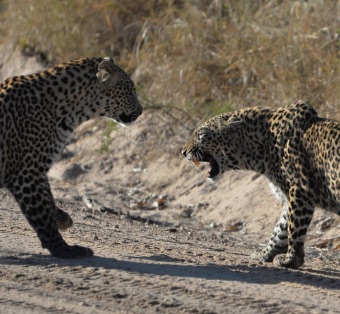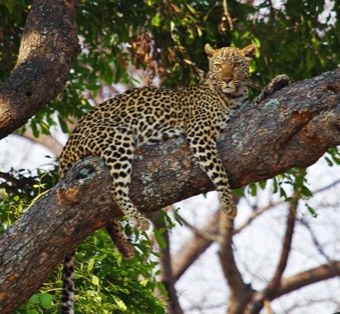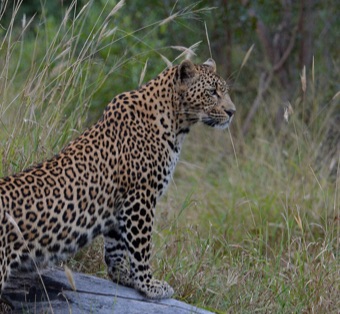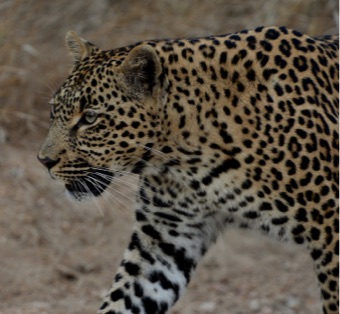 Galago camp in Djuma Private Game Reserve offered us an incredible setting in which to put our heads together and assess the direction of our leopard conservation efforts. Coworkers made the journey from remote parts of Africa to update us on their work. Dr. Guy Balme, the Director of the Leopard Program, facilitated the discussions and ensured that our project strategies were centered on a Conservation Standards approach.   
Dr. Rebecca Garbett, Project Coordinator for the Southern African Leopard Monitoring Group, guided the idea-sharing session on the leopard conservation strategies;
Donovan Jooste, Project Manager in Angola, outlined progress and trials in Luengue-Luiana and Mavinga National Parks.  
Dr. Marine Drouilly gave insights into the leopard landscapes in western Africa that are largely unstudied; 
Arabian Leopard Initiative Project Coordinator, Dr. Gareth Mann, shared the progress of the first data-collection season in Saudi Arabia;  
We received updates and discussed Panthera's Saving Spots project led by Dr. Jeff Dunnink; 
Dr. Gareth Whittington-Jones updated us on the southern Africa Counter Wildlife Crime program. 
Lucy Smyth, a Ph.D. candidate at the University of Cape Town, shared an intriguing chapter of her research on whether more closely related leopards have more similar rosette markings and whether this could be useful in monitoring initiatives; 
As usual, we were in awe of the feats accomplished by Dr. Ross Pitman, Director of Data Science, and the Integrated Data System team; without them, we would struggle to manage the enormous amounts of data generated by our projects!  
Dr. Nikki le Roex, Project Coordinator of the Sabi Sands Leopard Project, shared the exciting conservation interventions related to our long-term leopard research in this wonderful reserve we found ourselves in; and  
Finally, we were thrilled to welcome and to get to know Dr. Kristine Maciejewski, the new Regional Director of Southern and East Africa for Panthera. 
Our immense gratitude goes out to General Manager Michel Girardin for welcoming us so warmly and facilitating our stay. And to all the friendly staff at Galago camp: Chef Albertina and her team for feeding us so well, the amazing guides Rexon, William and Mike who showed us so many once-in-a-lifetime sightings, and to Djuma Private Game Reserve for hosting us so comfortably. Thank you!  
The bushveld, the presence of fellow coworkers with a passion for wild cats and conservation, and the leopards of the Sabi Sands Game Reserve themselves completely reinvigorated us as a team, helping to create an essential and thoroughly successful workshop!