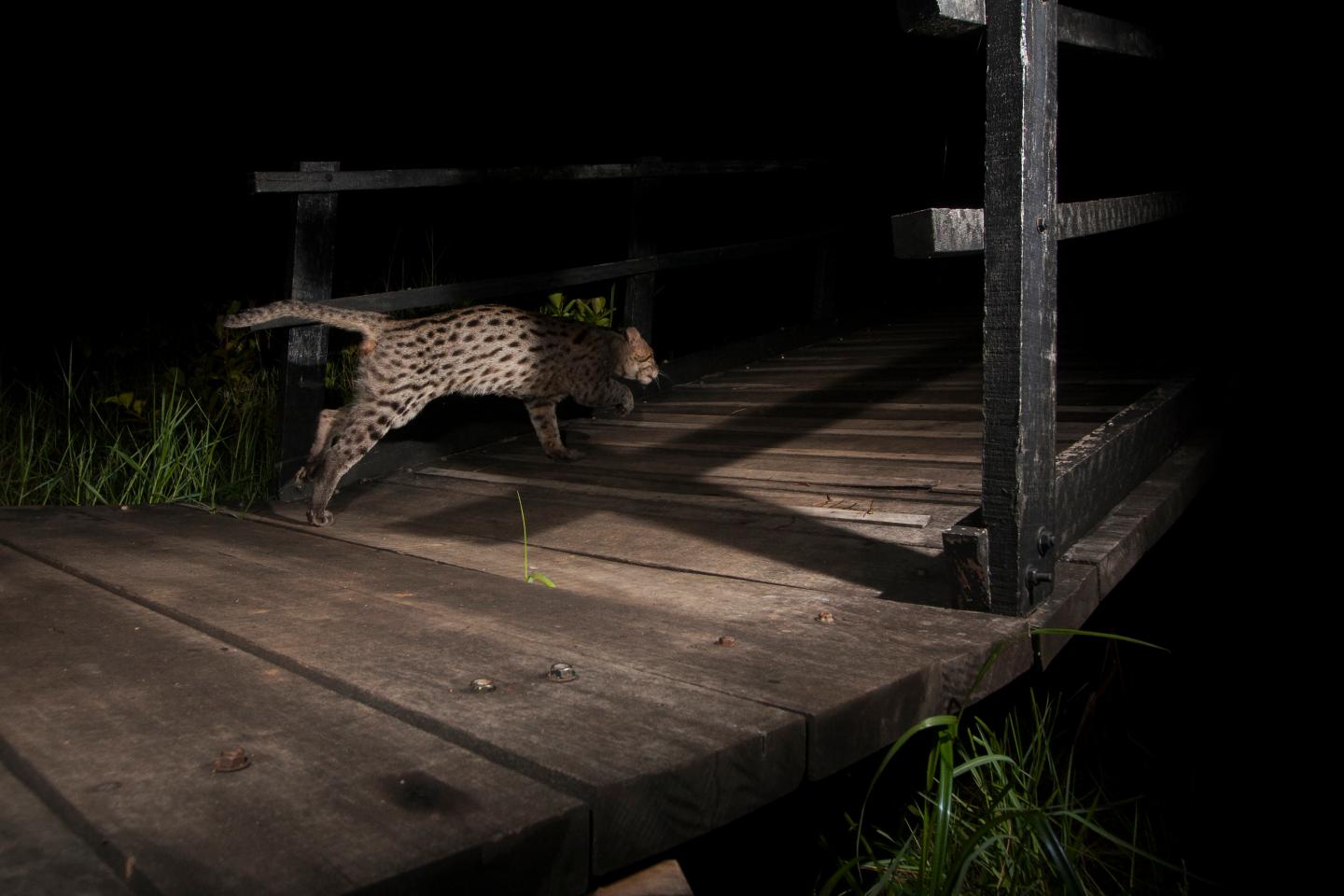 Editor's Note: Sagar is a grant recipient of Panthera's Small Cat Action Fund for his work on fishing cats.

Conservation can feel like a losing battle. With reports of ecosystems and species at risk becoming more and more common, people start to become overwhelmed or indifferent. It's easy to be a pessimist when you stop and ponder the scary and soul-crushing ecological phenomenon on our doorstep. There are glimmers of hope though, and sometimes they come in the package of a small cat.
The fishing cat (Prionailurus viverrinus), also known as the "cat that barks" for its dog-like barking vocalizations, is a small cat species. They are one of the rarest wild cat species in South and Southeast Asia, and IUCN Red List Assessment data suggests their numbers are decreasing. Fishing cats have an affinity for water, and their long bodies and small, partially-webbed feet are well designed for catching fish. Emerging at night from shelter in forest, farmland, or tall grasslands, they seek out nearby ponds, rivers, water holes, reeds, and marshes to catch their prey.
Exploring the hidden world of the fishing cat with our team, Ms. Swechya Shrestha, Mr. Dipendra Adhikari, Mr. Sashank Sharma, and Mr. Sanjan Thapa, we began our research in the Bodhban village of Nepal's Bara district in the summer of 2016. We chose Bodhban because the village is a well-known hub for fish farming within the district and, along with agriculture, is the main occupation of the area's residents.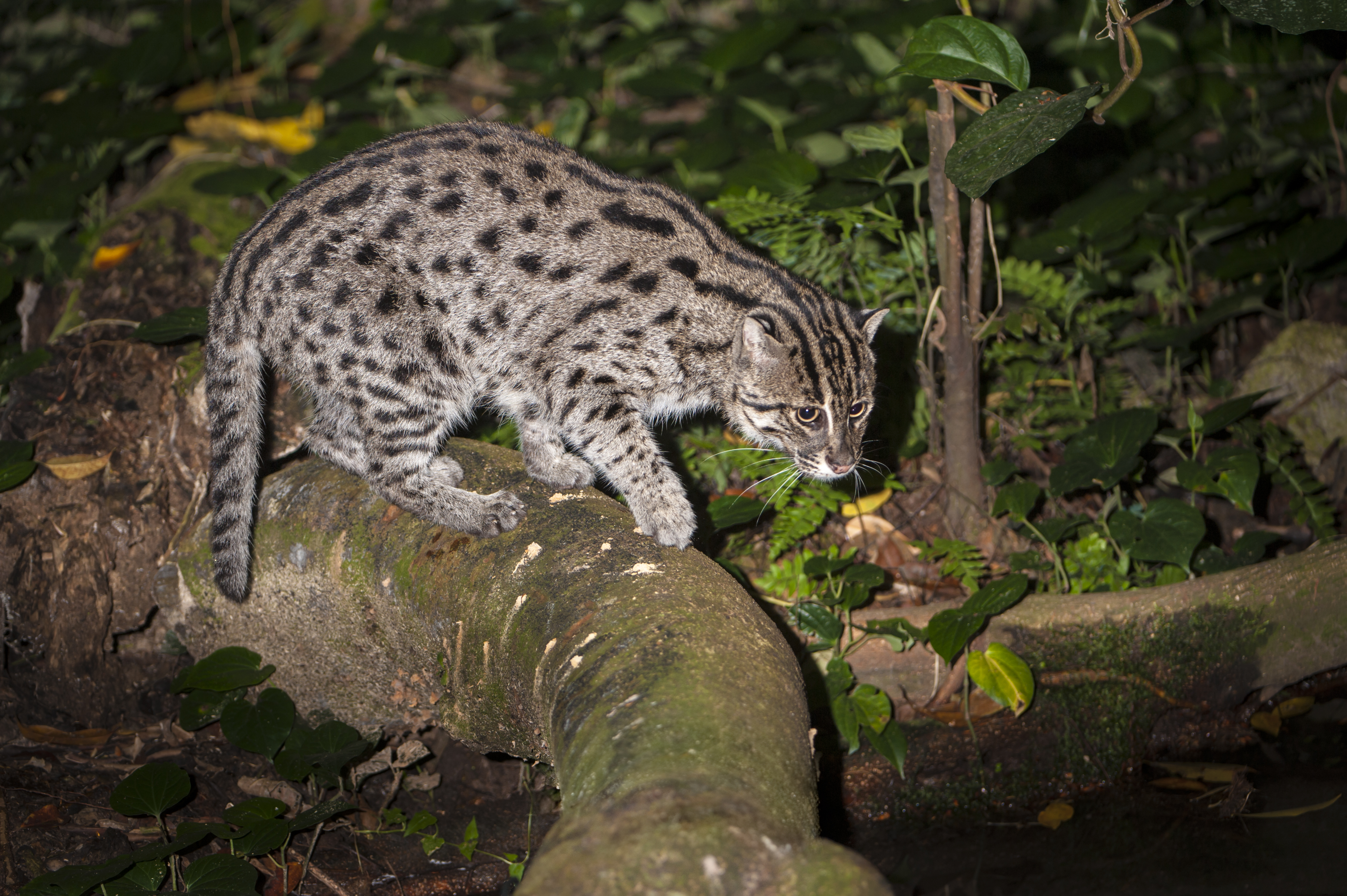 There weren't many clues that fishing cats lived around this remote village until we stumbled upon the dried pelt of one in a villager's home. While this was a less-than-ideal state to find the wild cat in, the discovery was the catalyst fueling our two years of continuous research. As the story goes, the community killed the cat in an act of retaliation for preying on chickens.
The research topic practically fell into our laps, so we got to work designing a study that would both gather data on local fishing cats and attempt to mitigate conflict with their human neighbors. To that end, one of our research aims was to assess the cat's impact on fish farming business. Our approach entailed regularly monitoring the area with camera traps on the banks of Bodhban's river and fish ponds, but also creating a conservation outreach program for the community.
We confirmed the area offers very good habitat for the species. While able to hunt from the plentiful resources of private fish ponds, rivers, and canals, expansive wheat fields and rice paddies also provide the cats with the necessary habitat to run their secret lives in this human-dominated landscape.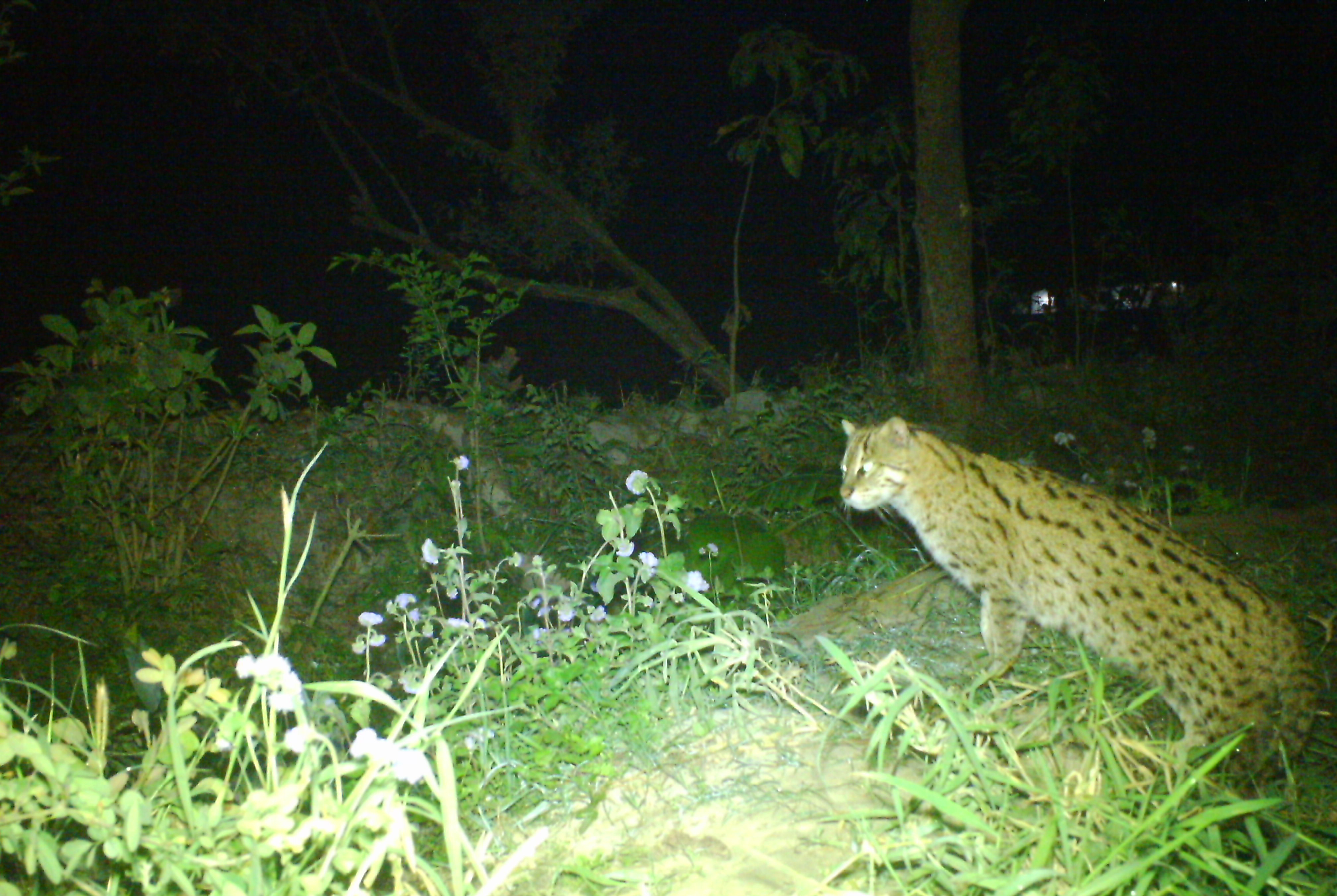 While our local outreach promoted awareness of fishing cats throughout the village, the program also encouraged people to actively take part in their conservation. We spent many hours speaking with school children and fish farmers but truly believed in one key element: unless we could somehow support villagers' livelihoods, mere conservation awareness wouldn't be enough to get local people invested in conserving fishing cats. Remembering the tale of the dried pelt that inspired us, we decided with our local partners to try giving out predator-proof chicken coops to families. What's more, we'd train them as citizen scientists for fishing cat monitoring and conservation.
We chose five motivated men and women each from ten families in the area's local fish farming community and provided them with the necessary resources to build predator-proof coops. Constructed from locally available materials like wood plank and bamboo, the chicken coops are very cost-effective and can house around 20 chickens. Depending on poultry price at market and if coops house the maximum number of chickens year-round, estimates suggest each family could generate around $500 USD annually selling chickens protected from predation with the help of these new coops. That amount, multiplied by the 10 families, would total to $5000 USD flowing in the community each year. This extra income can supplement the fish farmers' livelihoods and also sway them to be more tolerant towards fishing cats foraging in their fish ponds.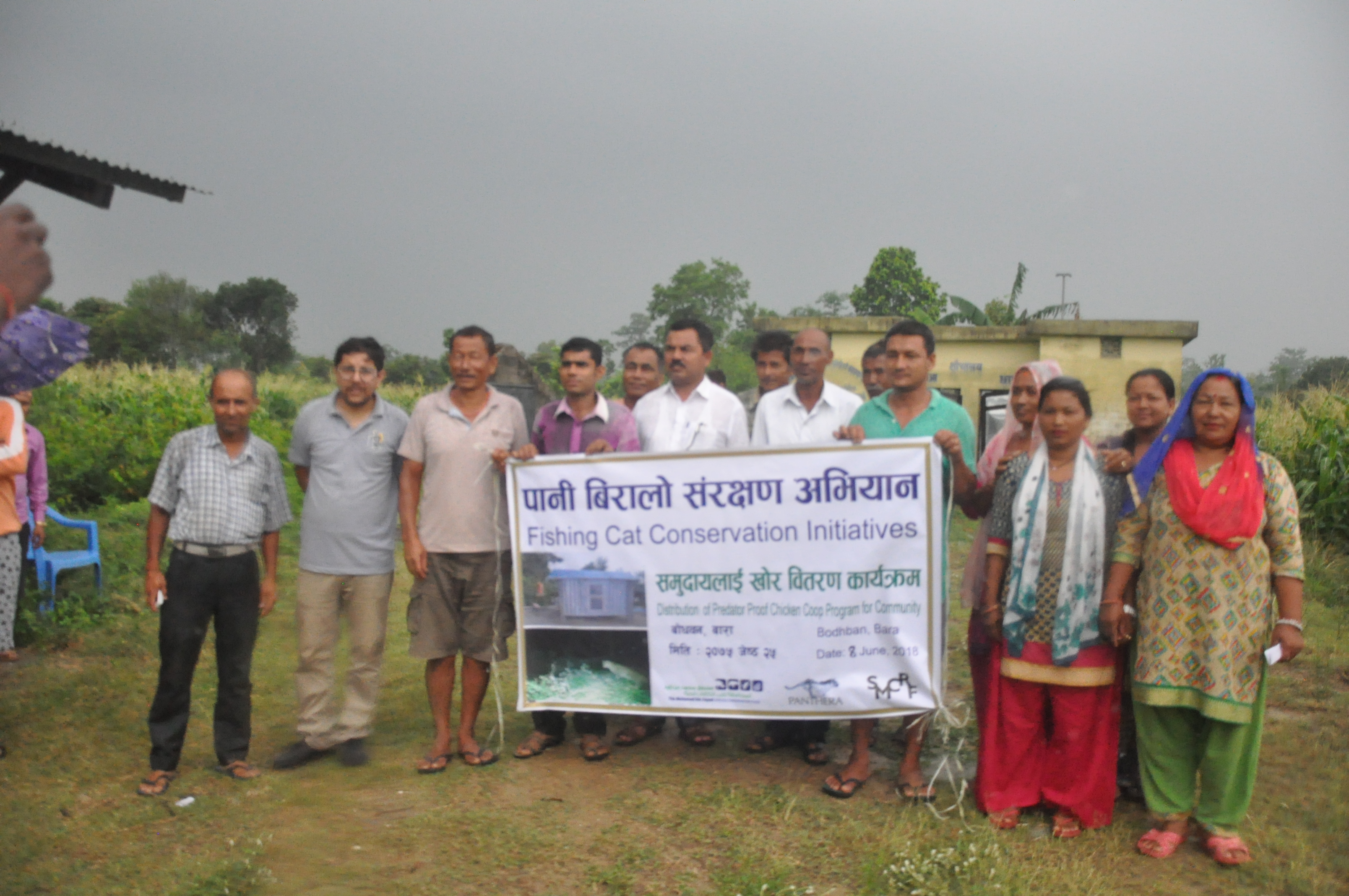 With a bit of fanfare for fishing cats this summer, we distributed the coops in a formal ceremony that caught the whole village's attention. Encouragingly, the mayor, Mr. Bharat Bhandari, and prominent representatives of the fish farming industry were also there. All listened with interest as the program explained these secretive predators and the importance of wetland habitat and fish ponds for their survival—and a harmonious coexistence between humans and fishing cats in these landscapes. Newspaper and TV news even covered the ceremony's culmination, as our ten citizen scientists pledged to be vanguards of fishing cat conservation and address conflict with villagers.
So far, the chicken coops are working well and generating extra income for the families. We've come a long way since discovering that fishing cat pelt in 2016 — building conservation awareness among fish farmers and local children alike, while supporting alternative livelihood options that encourage coexistence with these rare small cats. Witnessing people of this village come together over fishing cat conservation with a sense of ownership on the issue, I've realized, in the grand scheme of things, that I'm a conservation optimist. I have renewed hope that this model, where the local community and the fishing cat both benefit from conservation, will be part of a butterfly effect that ultimately helps us win the uphill battle to preserve our planet.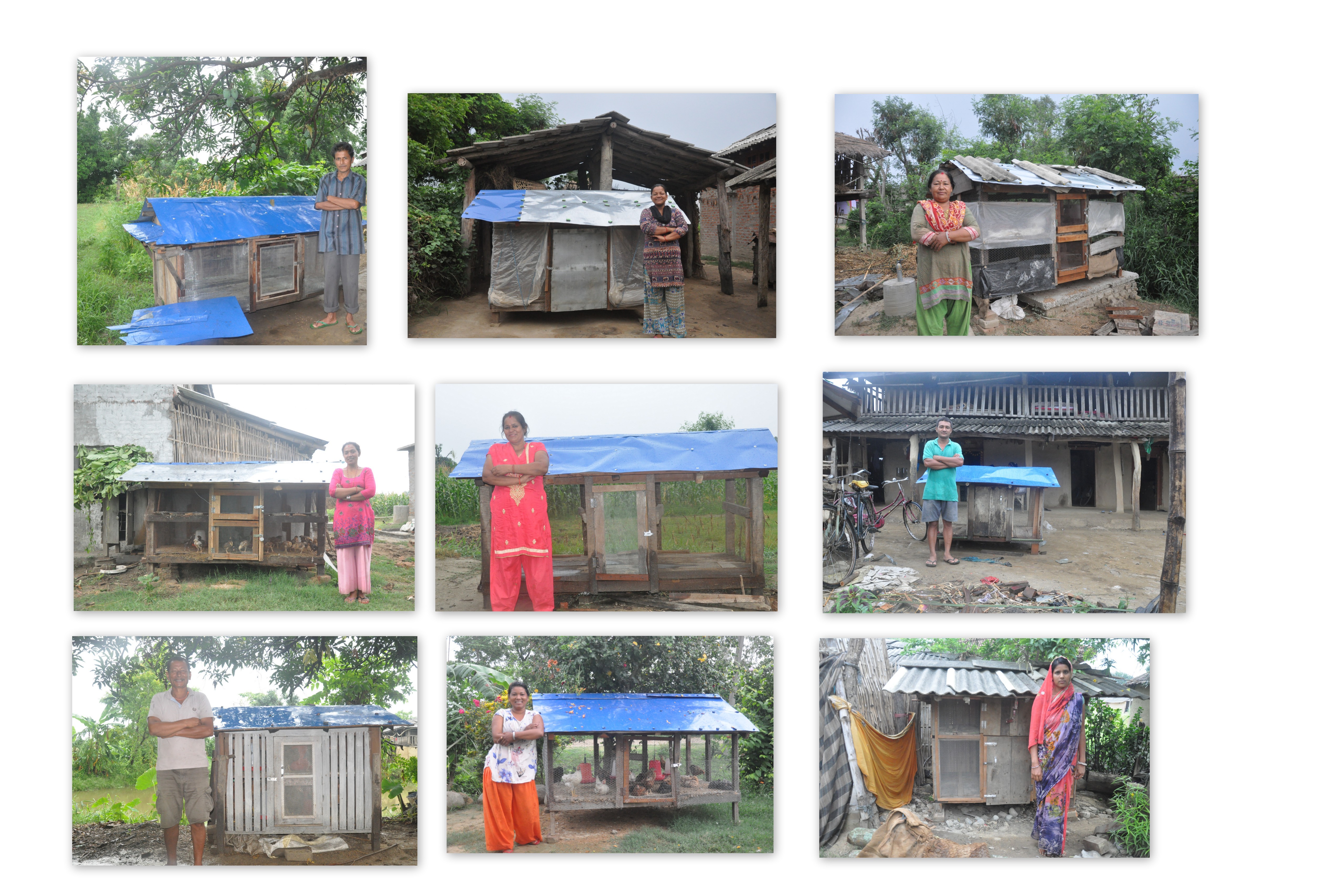 Can't get enough small cats? Learn more about small cat species and their threats here.